Instructors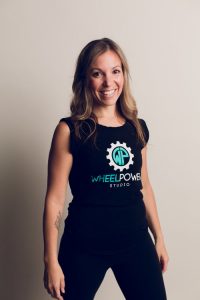 Tracy Schy
A former master instructor for Flywheel Sports, Tracy is recognized as one of the leading indoor cycling instructors in the industry. Every heart pumping ride is choreographed to an expertly curated playlist, and her infectious smile and positive encouragement fuels riders to clip in, rock out, and unleash their inner drive.
Tracy is an accomplished marathon inline skater, hiker, and mountain biker with a passion for singing and dancing. Performing on stage since age 5, this unique combination of athleticism, grace and movement is the catalyst for Tracy's trademark rides filled with high energy and euphoric endorphins.
In addition to numerous awards and fitness honors, Tracy holds multiple certifications including NASM Certified Personal Trainer, AFAA Group Exercise, and Schwinn Indoor Cycling.
---
Robbie Schy
Robbie is thrilled to return to his hometown Deerfield, IL and bring his years of fitness expertise to the phenomenal WheelPower staff. Robbie is a PMA certified Pilates instructor, teacher of a multitude of group fitness disciplines, huge live music enthusiast, and Ironman. Robbie's classes are fast paced, intense and aimed at getting you to increase your "Power Zone." When the music turns up and the lights go down you can expect to get an amazing workout, don't let his kind smile and dimples fool you, he's a beast on the bike and in our strength room. Get ready to ignite your POWER with Robbie!
---
Quentin Davie
---
Kate Gruber
It only took one indoor cycle class back in college, and Kate was hooked! She loves the simple yet effective movements that push the body to the max, and that euphoric feeling you get when class is over. After moving to St. Louis to pursue her TV aspirations (Kate is an Emmy award winning newscast director), the gym she worked out at didn't have a spin program, and Kate kept begging for one. The owners finally said "If you teach the class, we will buy the bikes"…and the rest is history! 15 years later, and Kate still maintains the same level of passion for indoor cycling that she did back then. Shehas taught at numerous fitness studios including Flywheel Gold Coast (where she met Tracy)!
Kate brings a high level of intensity and motivation to her classes. Her motto is "it can be easy or effective, not both".
While indoor cycling is Kate's first fitness love, she has also completed the St. Louis half marathon, the Madison Full Marathon, has hustled up the Hancock, and is looking forward to training for her first triathlon, perhaps 2017?
Kate lives in Naperville with her husband, Matt, and her two young sons Will and Jack. In her spare time, Kate loves cooking, reading, being outdoors, and eating chocolate chip cookies!
---
Fronzie Roemer
---
Ashley Asher
Ashley grew up with an active lifestyle and it has made a big impact on where she is today. She played soccer in college and graduated with a degree in Exercise Science. After working as a physical therapy technician, she decided she would rather be on the proactive side of healthcare. Insert personal training and group fitness.
Ashley is an ACSM certified personal trainer with a love for helping people see all that their bodies and minds are capable of. Her favorite part of her job is watching people do things that they couldn't do before they started working out.
Ashley treats everyone like an athlete. Be prepared to SWEAT when you hop into one of her classes. Gain power, strength and muscle tone while having a blast. She guarantees you will enjoy working out as much as she does.
---
Courtney Marincsin